Nobel Prize to the inventors of LEDs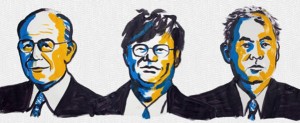 A new light to illuminate the world.
With this slogan Tuesday, October 07, 2014 was awarded with the Nobel Physics Prize Isamu Akasaki, Hiroshi Amano and Shuji Nakamura, the three Japanese scientists who invented the efficient diodes that emit blue light, the first version of the most commonly known: LED. The invention is dated in the early 1990s while working on some semiconductors. The red and green LEDs were already available in early 1970s, but without a blue light source the possibility of creating a white light was a dream
With their work, they have not only revolutionized the field of lighting, enabling the creation of a more economical and efficient lighting system, but they have also taken the first step to the latest technologies in the latest televisions generations.
The discovered of the White Led Lights, thanks to the three Japanese researchers, have opened the way to brilliant, durable and efficient light sources.
"With the advent of the Led, more and more widespread, we now have more efficient and durable alternatives to the old light sources", said the jury members of the Stockholm Award. These light sources have been continually improved over the years, providing an ever-increasing luminous flux with the same electrical consumption.
The recently developed LED lamps have a record efficiency of almost 20 times compared to the electric bulb and 4 times that of a neon lamp.
This result in significant savings on a global scale, if we consider that a quarter of world electricity is used for lighting.
The Nobel Prize of 2014 therefore embodies the very spirit of Alfred Nobel.
A discovery that can be of benefit to everyone.
Like LEDs, a new light for the whole planet.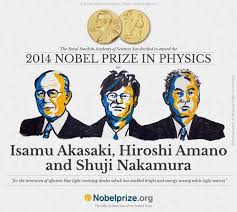 Short winners biography:
Isamu Akasaki was born in 1929 in Chiran, Japan. He graduated from the University of Nagoya, where now teaches.
Hiroshi Amano was born in 1960 in Hamamatsu, Japan. He graduated in 1989 at the University of Nagoya, where now teaches.
Shuji Nakamura was born in 1954 in Ikata, Japan, but has US citizenship. After graduating from the University of Tokushima in 1994, he moved to Santa Barbara, California, and he's teaching at the University of California at Santa Barbara.
A little curiosity, scientist Shuji Nakamura has filed a lawsuit against his former company, Nichia Chemical Industries, who only recognized $ 200 for his invention. Nakamura worked at night for the invention because her company did not agree.